Tutta Bella Canned Tomatoes: NOW AT COSTCO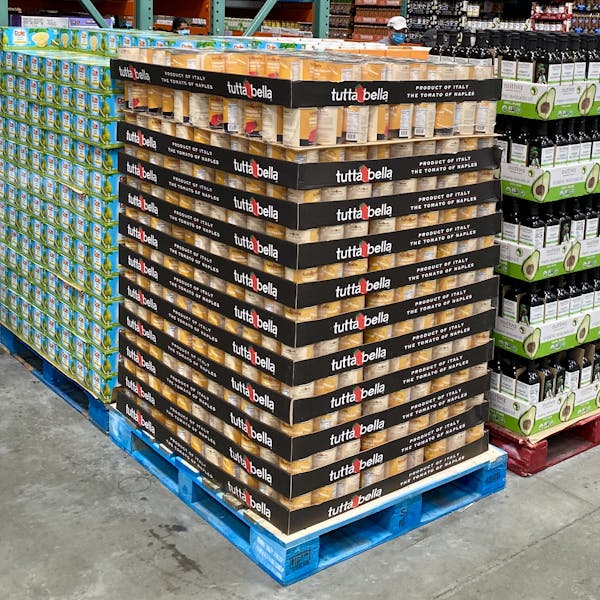 TUTTA BELLA CANNED TOMATOES ARE NOW AVAILABLE AT COSTCO!
We're thrilled to now be offering our crushed tomatoes in nine Costco warehouses around the Puget Sound area (see bottom of page for list of locations). These are available as a 3-pack of 28 oz. cans for 6.99 and you can either pick them up while you're there or you can order directly through INSTACART.
The tomato is a true staple in every Italian kitchen, and at Tutta Bella we are passionate about our tomatoes. Wait, check that, we are actually OBSESSED about them! While many people think a tomato is a tomato, we deeply believe that not all tomatoes are created equal. Since the day we opened our doors, we've been committed to using only premium Italian tomatoes. We work closely with our Italian partners to grow and harvest what we feel are the best tomatoes on earth.
So what makes Italian tomatoes so special? So glad you asked! Here are five great reasons.
The tomato of Naples ("Il Pomodoro di Napoli") is grown in nutrient and mineral rich volcanic soil around the Mount Vesuvius region. By design and centuries of breeding, these nutrients and minerals give the tomatoes a better flavor, natural sweetness and improved health profile.
-
The tomatoes of Naples have fewer seeds. Seeds add bitterness. This gives Italian tomatoes a flavor profile that is less bitter than domestic tomatoes.
-
The tomatoes of Naples also have less acidity, which means they are gentler on the digestive system and you don't need to add any sugar (which is commonly found in domestic canned tomatoes).
-
The tomatoes of Naples are harvested later in the season, which allows them to ripen more fully and develop a deeper, more complete flavor.
-
The tomatoes of Naples are harvested into smaller bins, as opposed to the big dump trucks that domestic producers use. Once harvested, domestic tomato producers also use a chemical peel to remove the skin, while the Italian farmers steam them off. We don't know about you, but we much prefer a natural, more organic approach.
So, what to do with these red fruits of love (BTW, the tomato actually is a fruit, not a vegetable)? Here is one of our all-time favorite recipes, inspired by the great Marcella Hazan.
THE FOUR-INGREDIENT TOMATO SAUCE
Ingredients
- 1 can of Tutta Bella crushed tomatoes
- 5 tablespoons of unsalted butter
- 1 small white onion, peeled and cut in half
- Kosher salt to taste
Directions
1. Put a 3-quart saucepan over medium-high heat. Add the tomatoes, butter, onion halves and salt.
2. Bring to simmer and then lower the heat.
3. Continue to "crush" the tomatoes lightly with the back of a spoon as they cook, stir occasionally.
4. Simmer very gently for 45 minutes, or until droplets of fat appear on the surface of the tomatoes.
5. Remove and discard the onion.
6. Serve over hot pasta with some freshly grated parmesan and cracked black pepper.
WHERE TO FIND OUR TOMATOES AT COSTCO
COVINGTON
27520 Covington Way SE
Covington, WA 98042
ISSAQUAH
1801 10th Ave NW
Issaquah, WA 98027
KIRKLAND
8629 120th Ave NE
Kirkland, WA 98033
LYNNWOOD
18109 33rd Ave W
Lynnwood, WA 98037
REDMOND
7725 188th Ave NE
Redmond, WA 98052
SHORELINE (Aurora Village)
1175 N 205th St.
Shoreline, WA 98133
SEATTLE
4401 4th Ave S
Seattle, WA 98134
TUKWILA
400 Costco Dr, Ste 150
Tukwila, WA 98188
WOODINVILLE
24008 Snohomish Woodinville Rd
Woodinville, WA 98072